Residential & Commercial Turtle Films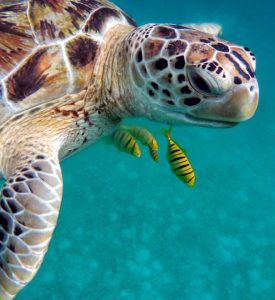 Do you live or own a commercial property on the coastline? Play an active role in Florida's turtle conservation efforts by "Tinting for Turtles."
Florida has a large population of sea turtles that rely on our beautiful beaches for nesting zones to bury their eggs in the sand at night.
Unfortunately, their natural habitats are disturbed by artificial light emitted from buildings and houses along the shore. Too much of this light discourages female turtles from nesting, potentially putting their population at risk. If female turtles fail to nest after multiple crawls to the shore, they resort to poor nesting spots or deposit their eggs in the ocean. In either case, the outlook for the survival of the hatchlings is not good.
Turtle hatchlings are naturally drawn to light. Typically, this light is the moonlight, but with artificial light in the mix, the hatchlings become disoriented drawing them inland as opposed to the ocean. Fortunately, the State of Florida has building codes in place requiring new construction with a direct "line of sight" to the beach to install windows with visible light transmission (VLT) of 45 percent or less.
InvisiGuard Window Tinting offers window films in compliance with Florida's mandated codes on light transmission requirements. Our window film can be installed right away without disrupting your home or business.
"Tinting for A Cause"
Existing homeowners and businesses along the coast are becoming concerned for the sea turtles as well. However, it's important to know that you do not have to go through the expensive process of replacing your windows with tinted glass units!
Our window films help to reduce heat, control glare, and virtually eliminate dangerous ultraviolet rays that can be damaging to interior carpets, furniture merchandise, and more.
Reduce the heat load, while saving on your utility costs and contributing to our local turtle conservation efforts at the same time!
For more information on how artificial light can threaten turtle populations or to make a donation for this cause, visit conserveturtles.org.